Benefits of Fixed Asset Tracking (Ref: AT-111)
Traditional spreadsheets and ledgers are becoming a thing of the past as they are being replaced with RFID Asset Tagging technology that can simplify asset tracking.
Reasons why this is important;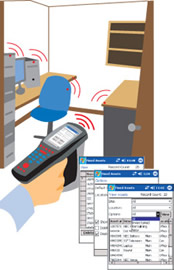 Approximately 30% of all organizations do not know what they own, where their assets are located or who is even using them. Evaluating factors that influence the actual value of assets can take up valuable time.
With a modern tracking system, asset tracking can be accomplished as easy as taking a picture or entering a code.
A Few Important Points & Figures;
A fixed asset is any permanent object your business uses.

You may be held legally responsible for an item if something goes wrong.

If an item is lost or stolen you will want to be prepared to cover the loss.

You could be overpaying by as much as 30% on taxes and insurance.

Fixed assets do not have a consistent value, and can change depending on the item location, length of use, state of repair, usefullness, appreciation, depreciation etc.

Evaluating factors that influence the actual value of assets can take time, and with a tracking system, it can be easy to take a picture or enter a code.

Businesses that use a tracking system have 15% or less total cost of ownership.

Reduce duplicate purchases by verifying what items you have already purchased.

Organize assets with a tracking system that sends reports to insurance providers.

Manmade disasters strike 10% of businesses.

Using a tracking system will ensure that you have the documents needed to get the funds to recover your business.

1 out of 5 businesses will never reopen after a disaster.

Natural disasters strike almost 30% of businesses.

Theft thrives where employees know there is a lack of tracking items such as office supplies, equipment, merchandise, and intellectual property.

1/3 of all bankruptcies come from employee theft.

A lot of money can be saved on maintenance fees by items not being used.

Rather than guessing about upgrades or replacements, tracking your assets helps to anticipate costs and timing of replacing and or upgrading items.

Ghost assets are items that are lost, stolen or unusable and still remain listed as an active fixed asset.

Remove ghost assets from your books so you are not charged for them.

65% of fixed asset data is incomplete, inaccurate, or missing altogether.

- Asset Tagger Team